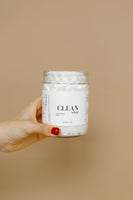 this is why our face cream is also diaper rash cream!
simple skincare is supposed to make sense. this is why at Smear we're done reinventing the wheel. we're going back to the basics and using all the good stuff you need in one spot. proper hydration is what your skin dreams about and happy skin is for everyone.
read about one jar to solve them all.
What's the deal with eczema?
"One in 10 people will have eczema in their lifetime".
"Atopic dermatitis (atopic eczema) is a chronic relapsing and remitting inflammatory skin disease affecting one in 10 people in their lifetime. Atopic dermatitis is caused by a complex interaction of immune dysregulation, epidermal gene mutations, and environmental factors that disrupts the epidermis causing intensely pruritic skin lesions."Atopic Dermatitis: Diagnosis and Treatment by Winfred Frazierand Namita Bhardwaj.

We need to talk about this— there's a reason this is so common.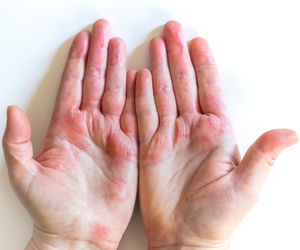 I've had tinea versicolor for the last year and a half. It has been one of the most frustrating things I've dealt with. Then this tallow balm came and punched this condition in the mouth. Within 5 days it removed around 50% of the discoloration of this skin condition, praise God!

Billy Jenkins
My son is 3.5 years old and has suffered with eczema since he was 3 months old. We've tried every lotion in the book from steroids to non steroids and nothing worked. At best, we kept the eczema "calmer" then it's worst state. We started using tallow and not only did it clear the "staph" spots diagnosed by our pediatrician but we only lotion him once a day!

Brittany Garcia
I've had dry, flaky, Inflamed eczema for years!! I used to use multiple steroids and topical creams to reduce the inflammation. I've used Smear for a month straight-- the inflammation is gone, the flaky spots reduced, my skin is extremely hydrated and I've never gotten so many compliments on how dewy my skin looks!

Aimee Masci
DUDE!!! Listen, I've had psoriasis for 10 years. And I've tried every cream, every oil, EVERYTHING and NOTHING has helped like this. I knew it felt good but didn't realize until today how big of a difference it's made! It's only been TWO WEEKS! Thank you!

Marissa Codog
Our Smear came in last night and my mom and I decided to check it out before giving it to my sister. My mom had a burn on her hand and not even 12 hours after applying Smear, it's almost gone. And, I have forever had super dry hands that no lotion can fix and I can already tell a difference in my hands!

Mack Bougher
I got my smear and have been using it a few days! Can't wait to see changes! I already feel like it's making my face smoother! And I recently started to notice these little red lines almost like capillaries on my cheeks and they are gone already!

Carrie Schwank